Free collection, staff were amazing and helpful
Fast, reliable, easy, amazing staff, helpful, safe, free collection is something that other company they do not do or they charge if they do, best price in London, hassle free in one word
11th August 2020
storage for the barnet area
Our Staples Corner location in North London has everything you need for Barnet self-storage. You will find the facility to be safe, secure, and competitively priced. Our wide range of unit sizes, which starts with a 10 sq ft locker and goes all the way up to a 200 sq ft space that can hold entire sets of furniture, is ideal for both short and long-term residential and commercial storage needs.
convenient location
Our Staples Corner location is inside the North Circular, at Staples Corner / Brent Cross, so you will have no difficulty accessing your belongings. We're only a 15-minute car ride from Marble Arch and even closer to NW postcodes such as Notting Hill. For added convenience, we offer free collection to storage customers in most areas of North London!
barnet self-storage you can trust
Henfield Storage opened its doors nearly 40 years ago. Our customer-centric business philosophy is reflected in our commitment to provide you with professional, secure and affordable self-storage solutions at all five of our locations in London and Sussex / Surrey. We offer many of the state-of-the-art options available at pricier facilities, without the added cost to you!
business or personal storage
The Staples Corner facility is here to help you keep your personal and professional life free of clutter. From extra inventory and promotional items to holiday decorations and summer garden furniture, we offer you the perfect place to store anything that you don't use on a regular basis. If you need assistance with selecting the right unit size, our friendly staff are here to help.
secure storage
When you entrust us with your important possessions, we take the responsibility very seriously. All of our facilities are protected by security fencing, 24-hour colour CCTV, and smoke detectors. Each high-quality steel storage unit is further secured by motion sensors and intruder alarms linked to monitoring stations and the police. Your unit will also have only one keyholder- you.
To give our customers added peace of mind, all of our facilities have state-of-the-art security systems that include smoke detectors, intruder alarms, and video cameras and motion sensors strategically placed throughout the property. Each unit has a fortified steel door and walls, and you are the only key holder.
extremely competitive
Henfield Storage's self-storage units range in size from small to impressively large, so we know you'll find the perfect option for you. A 50 sq ft unit can cost you as little as £23.56 per month (including VAT), and many of our more popular sizes, such as the 25 and 35 sq ft rooms, have budget versions that are up to 20% cheaper!
When you're looking for clean, trustworthy, and secure Barnet self-storage, call Henfield Storage for a custom quote today.
Other facilities in London
Other facilities in the area
We guarantee storage facilities with the LOWEST prices! If you find a local comparable quote that's cheaper,
let us know and we'll match the price!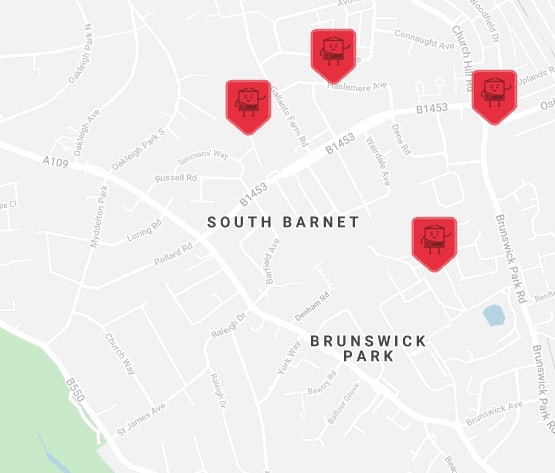 Henfield Storage (Click+Store) – Free Collection

Call 020 3613 2599

Get a quote

Big Yellow Self Storage

447 High Rd, Finchley, London N12 0AF, United Kingdom

Shurgard Self Storage

250 Burnt Oak Broadway, London, Edgware HA8 0GA, United Kingdom

Safestore

Britannic House, Stirling Way, Borehamwood WD6 2BT, United Kingdom
can we help you find easy money saving self-storage?
get started