Excellent
Very good service. Efficient and professional.
6th July 2020
Self-Storage for the Godalming Area
If you're living and working in the Goldaming area, feel free to visit our Horsham branch located nearby. Whether you are decluttering your house or going on that much-needed holiday you can find out which unit you require with our complete range of unit sizes. 
Unit sizes offered can range anywhere from a 10 sq ft locker to a 200 sq ft room, let our friendly staff guide you by ensuring you get maximum space for minimum cost.
Convenient Location
Henfields storage facility in Horsham is accessible during our opening hours. Located in the middle of town it's only a short distance from the Horsham Rail Station; services are open to customers in Sussex and Surrey areas.
Self-storage solutions you can rely on
At Henfield Storage, we have pledged to consistently provide the highest standard of customer service for our clients and to meet their self-storage unit needs for over 40 years. 
Our goal remains the same; to be the best possible provider for you in every market we serve. 
Our excellent staff members will happily answer all queries and ensure you are well-informed before making any storage unit rental purchase.
business or personal storage
Our Horsham branch is an excellent location for your storage needs as it's nearby and easily accessible to Goldaming customers.This outlet also offers a car and van rental business, instead of using our Click+Storage collection service, you can rent a van for free (conditions apply).
secure storage
The safety and security of your belongings is an utmost priority for Henfield Storage. We believe we are the safest storage facility near Goldaming as we provide a 24 hour CCTV surveillance system to monitor your storage unit closely. 
Other-state-of the-art security features include steel-walled units being equipped with unit motion sensors, intruder alarms, secure fencing and smoke detectors.
extremely competitive
At the Horsham self-storage facility, we make sure that storage units offered will cater to your budget with our many affordable options. Our flexible pricing scheme provides convenient payment plans so you can pay every month or pay in advance.
One benefit of paying upfront on a set number of months is that you will receive a 15% discount on your total. If you want to know more about our payment plan options and receive a customised quote, call us today!
Other facilities in London
Other facilities in the area
We guarantee storage facilities with the LOWEST prices! If you find a local comparable quote that's cheaper,
let us know and we'll match the price!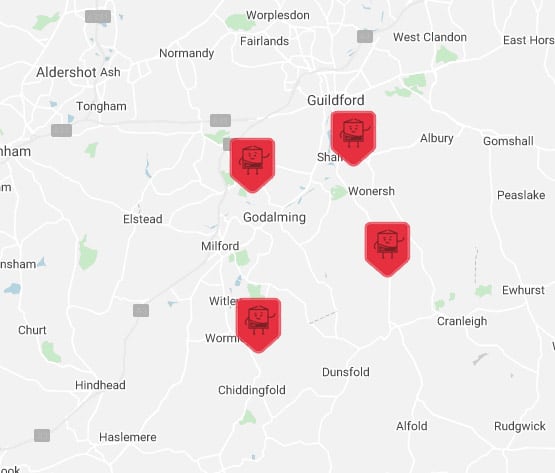 Henfield Storage (Click+Store) – Free Collection

Call 020 3613 2599

Get a quote

Safestore Self Storage

Unit 6, Moorfield Rd, Cobbett Rd, Slyfield Industrial Estate, Guildford GU1 1RU, United Kingdom

Access Self Storage

19 Moorfield Rd, Slyfield Industrial Estate, Guildford GU1 1RU, United Kingdom

Big Yellow Self Storage

3-5 Woodbridge Meadows, Guildford GU1 1BA, United Kingdom
can we help you find easy money saving self-storage?
get started