Quick, simple and efficient
25th March 2020
Self-Storage for the Hayes Area
If you live or work in or near this town, our Chiswick facility remains very close to fulfilling all your self-storage requirements. With unit sizes that go from 10 sq ft lockers to 200 sq ft rooms, all your belongings will be very secure at this location. We can assure that you will be provided with an excellent storage solution for all your economic, security, space, comfort, parking needs.
Convenient Location
Our Chiswick location can be easily found just outside the North Circular on the A4, on the borders of Chiswick and Brentford. We are around 10 minutes away from Hammersmith, and just 20 minutes from the busy Victoria transport hub.
Self-storage solutions you can rely on
Considering that there are diverse storage companies in the region, we can gladly say that we are one of the best because the client is always our main priority. By providing top-notch services, we combine flexibility with affordable pricing, and, at the end of the day, we give our clients just what they need.
business or personal storage
Our Chiswick storage facility is not only a perfect option for those who want to leave their belongings at a secure location, but also for those who want an easy, time-efficient, and accessible self-storage experience.
secure storage
Are you preoccupied with what can happen to your belongings? Do you wonder what may happen if someone tried to enter your unit? Stay calm. We can assure there is no need to panic. Our Chiswick building has enough security characteristics to guarantee you the adequate protection for all your stuff. Your unit will be protected 24/7 by constant security monitoring, fire and intruder alarms, security lighting, fences, and security guards.
extremely competitive
The best of Chiswick storage facility is its very affordable and comfortable payment plans. While providing an excellent service, you can choose how much money you want to save. Giving you the possibility to pay 3-12 months in advance, you can save up to 15% of your total. And if you use our units for a minimum of 3 months, you can earn a free bonus of up to £250.
Our experience is reflected in our self-storage units located at Chiswick. Call Henfield Storage today to know more about our offers.
Other facilities in London
Other facilities in the area
We guarantee storage facilities with the LOWEST prices! If you find a local comparable quote that's cheaper,
let us know and we'll match the price!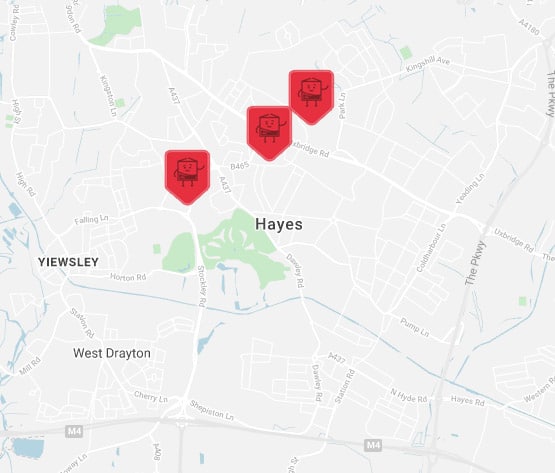 Henfield Storage (StoreAway) – Free Collection

Call 020 3613 2599

Get a quote

Access Self Storage

1 Nestles Ave, London, Hayes UB3 4UZ, United Kingdom

Safestore Self Storage

4 Bilton Way, Hayes UB3 3NF, United Kingdom

Big Yellow Self Storage

399 Uxbridge Rd, London UB1 3EW, United Kingdom
can we help you find easy money saving self-storage?
get started