Quick, simple and efficient
25th March 2020
Self-Storage for the New Cross Area
If you spend most of your time in New Cross, then you can take advantage of our nearest facility, which is located in Southwark. There, we offer very comfortable units that go from 10 sq ft lockers to 200 sq ft rooms in order to fulfill every single one of your storage needs. It is almost impossible to find storage near New Cross with our excellent characteristics.
Convenient Location
Our Southwark storage building offers a convenient location for anyone coming from South London, East London, Central London, and the City. Additionally, our great location is accompanied by a wide range of top-quality storage units for all clients.
Self-storage solutions you can rely on
For over 40 years we have fulfilled our clients´ self-storage needs and we are happy to say that we hope to do so for another 40 years. Our specialized team will be always ready to answer any of your questions or queries and offer you the most affordable and comfortable self-storage units out there.
business or personal storage
It does not matter if you want to store clothing, furniture, entertainment stuff, collectibles, or even tableware, all your belongings will be safe and sound in our great self-storage units at our Southwark facility. When we say that our reputation talks for ourselves is because it is true. Everyone is talking about us!
secure storage
Providing a secure service is part of what defines us. Just like our other storage facilities at Henfield Storage, our Southwark building is protected day and night by a wide range of security characteristics. Your unit will be protected by both fire and intruder alarms, 24/7 monitoring system connected to a CCTV network, security lighting and fences, and diverse security guards. And, if you want, you can also lock your unit using your own padlock.
extremely competitive
Besides offering great storage units, we accompany these with excellent payment plans. While providing an excellent service, we do everything we can to help you save some money. We even give you the possibility to pay multiple months in advance, this way you can save up to 15% of your total. Additionally, we believe in transparency, therefore, we do not charge with tricky fees.
Our experience is reflected in our self-storage units located at Southwark. Call Henfield Storage today to know more about our offers.
Other facilities in London
Other facilities in the area
We guarantee storage facilities with the LOWEST prices! If you find a local comparable quote that's cheaper,
let us know and we'll match the price!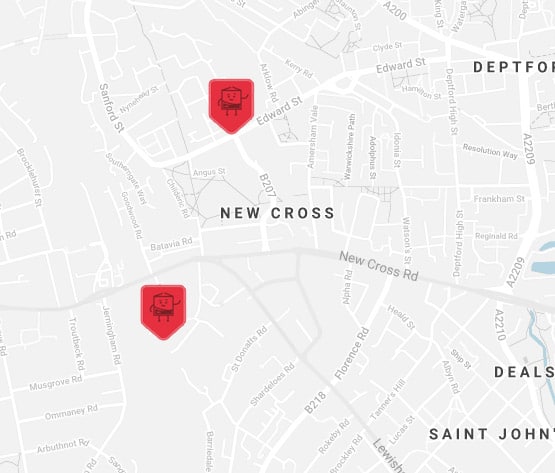 Henfield Storage (StoreAway) – Free Collection

Call 020 3613 2599

Get a quote

Safestore Self Storage

737 Old Kent Rd, London SE15 1JL, United Kingdom

Big Yellow Self Storage

155 Lewisham Way, New Cross, London SE14 6QP, United Kingdom
can we help you find easy money saving self-storage?
get started