Free collection, staff were amazing and helpful
Fast, reliable, easy, amazing staff, helpful, safe, free collection is something that other company they do not do or they charge if they do, best price in London, hassle free in one word
11th August 2020
Self-Storage for the New Cross Area
If you are looking for self-storage units in the New Cross Area, our Southwark facility is the closest location to you. We have units ranging from 10 sq ft. (0.93 sq m) to 200 sq ft (15.58 sq m) and the services are the same across the board.
Convenient Location
Our Southwark facility can take approximately 10 minutes or less from New Cross, depending on the traffic. Head towards Pagnell Street (B207) and continue until you reach Arkon Road. From there, switch to Trundleys Road. When you are on it, take a left to Surrey Canal Road and get to Ilderton Road. With two right turns on Penarth and Record Road, you can see our Southwark facility. 
Our facilities include a parking space near the building. So, there are no long walks with your boxes and bins. We have trolleys and lifts to make it easier for you to carry your items to your storage unit.
Self-storage solutions you can rely on
Henfield's Storage aims to be a service you can depend for the long-term. We are ready to provide you with a seamless self-storage experience. To help you get started, we have a team of experts available to answer any questions or concerns that you might have.
business or personal storage
You don't have to waste your time looking for business storage. Our units are suitable for both business and personal use. Whether it is extra office supplies or bulky furniture, we can accommodate your individual needs in our Southwark facility. 
secure storage
You can be rest assured that your belongings are safe and secure here at Henfield Storage. How? Our Southwark facility has CCTV coverage, fire and intruder alarms that run 24/7. We also have bright lighting, security fences, and security guards around the building.
extremely competitive
We strive to be a competitive presence in the industry with our low rates. If you manage to find local storage quotes that are better than ours, we are ready to match their prices. Besides our affordable fees, we have flexible payment plans and incentives for our long-term customers. 
Call Henfield Storage today! And learn more about our units and services. 
Other facilities in London
Other facilities in the area
We guarantee storage facilities with the LOWEST prices! If you find a local comparable quote that's cheaper,
let us know and we'll match the price!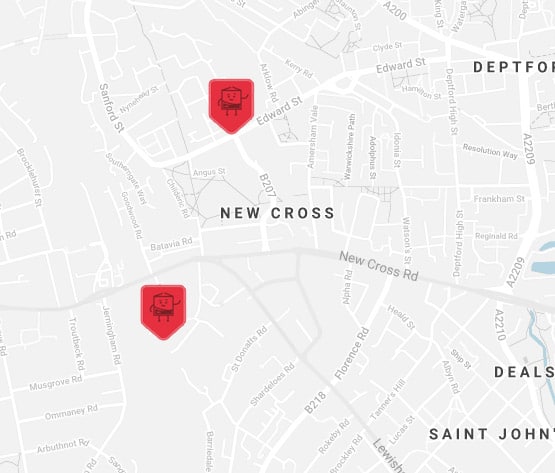 Henfield Storage (Click+Store) – Free Collection

Call 020 3613 2599

Get a quote

Safestore Self Storage

737 Old Kent Rd, London SE15 1JL, United Kingdom

Big Yellow Self Storage

155 Lewisham Way, New Cross, London SE14 6QP, United Kingdom
can we help you find easy money saving self-storage?
get started