Excellent
Very good service. Efficient and professional.
6th July 2020
Self-Storage for the Wembley Area
If you live in Wembley looking for self-storage, then you're in luck. 
The Henfield Storage Staples Corner facility is located in The Millenium Business Center on Humber Road and only a few miles away from the Wembley Stadium. Upon arriving our staff members will answer all questions, giving you the best advice on what storage unit you will genuinely need with the best price.
Convenient Location
For our Wembley clients, since our facility is easily accessible, feel free to visit during our opening hours. At Henfield storage, we have unit sizes to accommodate all spatial requirements, from lockers that are only 10 sq ft in size to 160 sq ft rooms.
Self-storage solutions you can rely on
At Henfield's Storage, our goal is simple, and that is to provide the best possible solution for your storage needs. We've been in the storage industry now for over 40 years. During that time, our management and staff members expertise have provided solutions to customers with even the most complex requirements. 
business or personal storage
Whether your storage needs are business or personal, our Henfield Storage Staples Corner facility will have what you're looking for. 
Regardless of the type and size of unit you need, our customer service will make your self-storage experience easy, time-efficient and always affordable.
secure storage
When customers ask us about the safety of their belongings, we are happy to assure them that with our current security arrangements firmly in place, your possessions are secured at all times. 
We understand that safety is paramount. At Henfield Storage, all of our steel-walled units have individual alarms and motion detectors, 24-hour CCTV surveillance and security fencing. 
Furthermore, there is also only one padlock and key of which you will own, giving you further peace of mind.
extremely competitive
We believe that competition brings out the best in us and that means offering the most convenient price-schemes catering to your needs, along with the most affordable prices.
If it's time to declutter your house by removing some furniture and a few sofas you can rent a 100 sq ft unit to accommodate these items for as low as £34.99 per week (including VAT).
Also, if you book a storage unit for a minimum of three months, we will collect your belongings for free! Call now to begin discussions for all your storage requirements and to receive a customised quote.
Other facilities in London
Other facilities in the area
We guarantee storage facilities with the LOWEST prices! If you find a local comparable quote that's cheaper,
let us know and we'll match the price!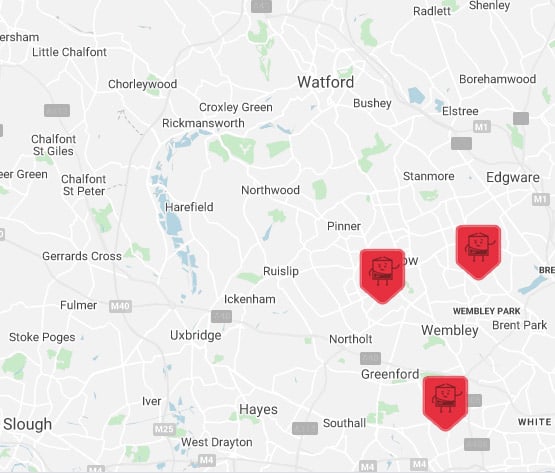 Henfield Storage (Click+Store) – Free Collection

Call 020 3613 2599

Get a quote

Access Self Storage

First Way, Wembley Stadium Industrial Estate, Wembley HA9 0JD, United Kingdom

Big Yellow Self Storage

Quill St, Hanger Hill, London W5 1DN, United Kingdom
can we help you find easy money saving self-storage?
get started