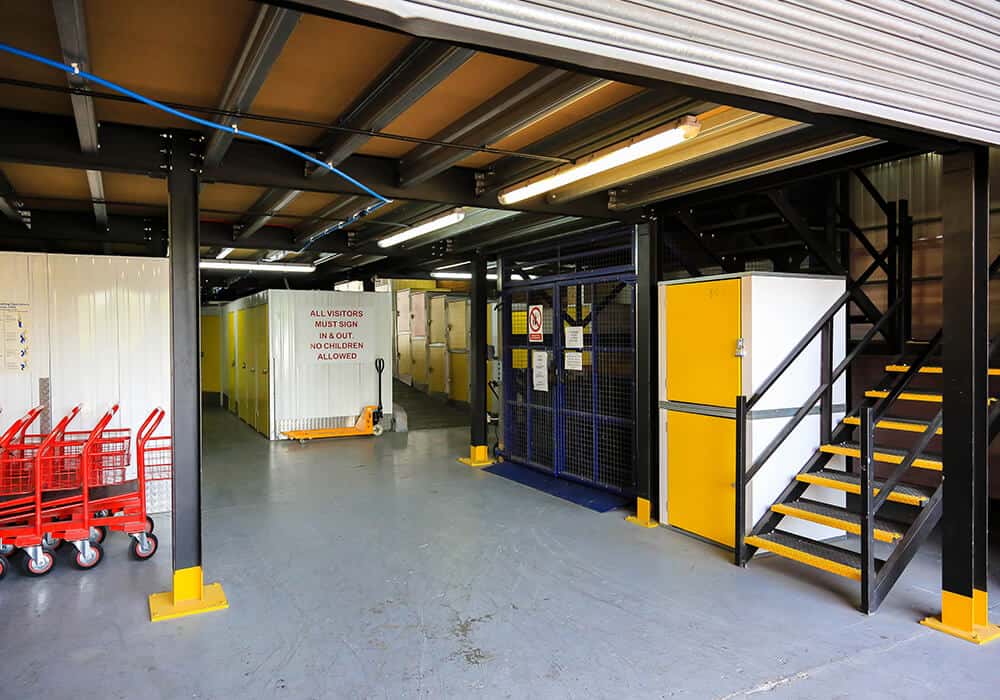 Staples Corner team
Ollie

Store Manager

Ricky

Dujuan
Storage in North London
Our Staples Corner storage facility is located just a 30-minute journey away from Marble Arch, and even closer than that from Notting Hill and the NW postcode area. We offer the best storage solutions in North London, with a range of high-quality storage units in various sizes, and severe security measures in place. Whether you need to store some old books for a month or the contents of your flat for over a year; Henfield Storage is the place for you.
Security Arrangements
The Staples Corner storage facility is equipped with detailed security arrangements. All storage units are individual units, meaning they aren't shared or connected to one another. You can only gain access to these units during opening hours, and if you prove that the unit belongs to you. Each one is secured by a padlock, which we ask that you supply yourself. Doing this means that you're the only person with copies of the key, so only you can unlock your unit.
Our entire facility is covered by a high-tech CCTV network of cameras. They let us see the entire space at all times, and they're aided by our bright security lighting as well. Both of these things help keep people away and prevent break-ins. When combined with our intruder alarm system – which is constantly monitored 24-hours a day – you have a facility that's incredibly secure.
Benefits of Our Staples Corner Storage Facility
If you're looking for self-storage in North London, then our facility is the only place you should go. You will see a plethora of benefits when you choose our service, starting with some substantial savings. In general, storage in North London isn't cheap. It's an area with a dense population, meaning storage can often be in high demand. Lucky for you, we offer the lowest self-storage prices in this area of the city. We will easily beat any quotes from big brands, and we will price match anyone that can offer a cheaper deal for the same service.
Our facility can also provide you with storage options that you might not find anywhere else. Unlike many other companies offering self-storage in Staples Corner, we've got a mixture of different storage options for you to enjoy. Why pay for a massive storage unit when you're only got a couple of things to put away? At our facility, you can benefit from our small locker storage solutions. These lockers are perfect for putting a couple of small things in, and they're incredibly cheap to use! But, if you need a lot of space, then we can cater for this with our large units as well.
One of the best benefits of our Staples Corner storage facility is that we offer free collection to all our customer in North London. If you live within a 30-mile radius of our store, we will collect your storage items and take them to our facility. This collection and removals service could cost up to an extra £250 on top of what you're already paying! At Henfield Storage, we don't charge a penny.
About Henfield Storage in Staples Corner
We've been in this industry for 40 years, and we're proud to offer our services to everyone in the North London area. Our Staples Corner storage facility has been operating for many years, and it's even received recognition in some of the top newspapers. The Times conducted research into the self-storage market in North London, and they found that we offered the cheapest quote by a country mile. In fact, they found that we were 64% cheaper than most other places!
The whole purpose of our facility is to give you a convenient storage option that's close to home. We know that a lot of people will be going back and forth between their storage units. As a result, you need to choose a service that's easily accessible from where you currently live. Our Staples Corner store is in a prime location that's easy to get to for all residents in and around North London.
Our team at the Staples Corner self-storage facility is always on-hand to deal with any questions or queries you have. So, don't be afraid to stop by or give us a call if you're ever unsure about anything.
FAQs
Get A Quote Today
To enjoy the finest self-storage North London has to offer, book your unit through our site today. In just a few minutes, you'll see the full quote for this service!
We have a variety of storage units in our Staples Corner self-storage location, and all of them are made out of steel. As a result, you can feel safe in the knowledge that your items aren't going anywhere, and are completely protected.
reviews
4.9
/5
1889 reviews
'Good value for money.'
Very knowledgeable and friendly service.
'polite, helpful'
Polite and helpful. good prices
'Very good service at the Wimbledon branch. Mash the manager is first class.'
Very good service at the Wimbledon branch. Mash the manager is first class. Highly recommended.
'good company culture'
the team are positive, responsive and professional. Over the years I have met quite a few employees, sometimes on the weekends when they are working alone. That has not stopped their efforts to offer a good service.
Read more
'Great service, very happy'
Matthew was great, came to help us move our things to Henfield from Brighton. He was a Star 🌟 Thank you for making it so easy 👍
'Great service'
From the first telephone call the staff were super friendly and helpful. The person who came to help with moving made the process quick and simple. Great facilities at a very good price. Would recommend.
Read more
I sent them this email earlier today, which reflects my experience with them, when we were using them for the first time, to store some furniture at their depot in Horsham: "Thank you for your excellent service today. The driver who collected our furniture was extremely courteous and helpful, making the whole process far more pleasant and easy than I had imagined. Well done!"
Read more
'Its great'
Great help. Prompt enough. Ben was great. Knew exactly how to pack and help us store our items. Definitely would recommend.
'Fast, efficient and friendly.'
Fast, efficient and friendly.