Free collection, staff were amazing and helpful
Fast, reliable, easy, amazing staff, helpful, safe, free collection is something that other company they do not do or they charge if they do, best price in London, hassle free in one word
11th August 2020
Self-Storage for the Peckham Area
The nearest Henfield branch is in Southwark. Peckham residents are welcome to visit our facility and browse through our available units. We have options ranging from 10 sq ft (0.93 sq m) to 200 sq ft (18.58 sq m). 
Convenient Location
You can find our facility 10-15 mins away from Peckham. You can either take the Ilderton Road, Meeting House Lane, or A202 to get to our Southwark facility. When you arrive at our branch, you can use the parking spaces and trolleys available to ease transporting your belongings into our building. 
Self-storage solutions you can rely on
Our goal, here at Henfield Storage, has always been to provide our clients with seamless storage solutions. You can talk to our team of experts to learn more about our offers and how they can fit with your current concerns. Our many years in the storage industry will provide considerable insight to help you navigate our many size options.
business or personal storage
No matter what you are in the market for, whether it is for private or commercial storage units, you can find something in our Southwark branch. We cater to a diverse range of clients who use our facilities to store items like product inventory, extra supplies, or unused furniture.
secure storage
All our units benefit from our security system. Henfield Storage strict company policies maintain that no one, besides you, can access your self-storage unit. We have CCTV surveillance, intruder alarms and security guards to ensure this.
extremely competitive
Since self-storage is so prevalent in the UK, we offer affordable rates, different payment plans and extra incentives for our customers to remain a competitive force. Our price match guarantee is our way of ensuring that we have the lowest rates in the market. You can also get 15% off your total bill for upfront payments and save £250 by reaching our 3-month minimum contract.  
Call Henfield Storage to find storage solutions for your home or business!
Other facilities in London
Other facilities in the area
We guarantee storage facilities with the LOWEST prices! If you find a local comparable quote that's cheaper,
let us know and we'll match the price!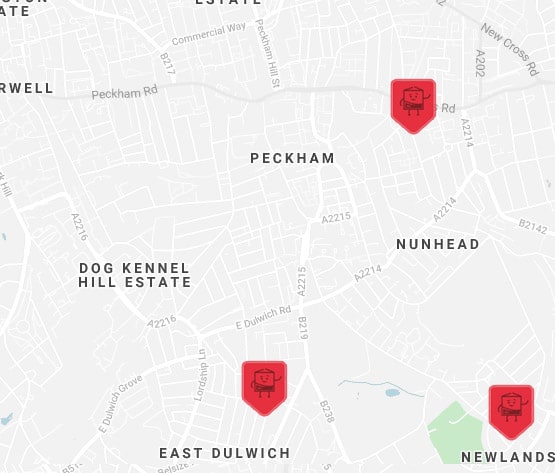 Henfield Storage (Click+Store) – Free Collection

Call 020 3613 2599

Get a quote

Access Self Storage

61 Willow Walk, London SE1 5SF, United Kingdom

Safestore Self Storage

737 Old Kent Rd, London SE15 1JL, United Kingdom

Big Yellow Self Storage

155 Lewisham Way, New Cross, London SE14 6QP, United Kingdom
can we help you find easy money saving self-storage?
get started