Free collection, staff were amazing and helpful
Fast, reliable, easy, amazing staff, helpful, safe, free collection is something that other company they do not do or they charge if they do, best price in London, hassle free in one word
11th August 2020
Self-Storage for the Camden Area
Camden residents can find self storage options in our Staples Corner branch. We have units that range from 10 sq ft (0.93 sq m) up to 200 sq ft (18.58 sq m).
Convenient Location
Our Staples Corner facility is conveniently located near North London. It only takes 20-25 mins for Camden residents. You can take the A5, though travel time varies depending on the traffic congestion.
Self-storage solutions you can rely on
Our team of experts have a lot of experience in the storage industry. They can help clients find their ideal self storage unit. If you cannot decide on a product or service, feel free to ask your questions and voice your concerns.
business or personal storage
Whether you are looking for personal or commercial storage space, you can look to our Staples Corner facility. We hold all kinds of items like family heirlooms and personal collections to product inventory and office furniture. Camden families and businesses can depend on our facility to keep their valuables safe and sound.
secure storage
Our security system includes 24/7 CCTV surveillance, patrolling security guards, and fire and intruder alarms. We also have company policies that ensure that you are the only one who has access to your unit.
extremely competitive
We have the most affordable rates for Camden clients and work hard to keep it that way with our price match guarantee. We also have flexible payment plans and incentives. All upfront payments can get 10% off the total bill.
Call Henfield Storage to learn more about our other offers!
Other facilities in London
Other facilities in the area
We guarantee storage facilities with the LOWEST prices! If you find a local comparable quote that's cheaper,
let us know and we'll match the price!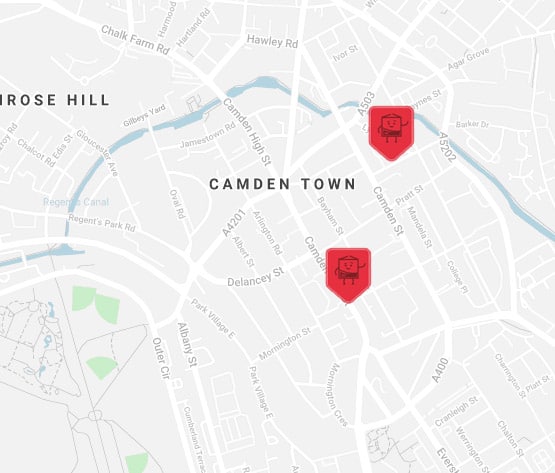 Henfield Storage (Click+Store) – Free Collection

Call 020 3613 2599

Get a quote

Safestore Self Storage

Plender St, Camden Town, London NW1 0HA, United Kingdom
can we help you find easy money saving self-storage?
get started