Easy, on time, spot on.
Joe, who helped load the van was an absolute super star. Very friendly, helpful and supportive.
4th August 2020
storage for the mitcham area
Though Henfield has many locations throughout London, the nearest to Mitcham is our Wimbledon facility, only a few minutes' drive west, and a few minutes' walk from South Wimbledon tube station.
Whether you reside in a flat with limited space, have overstock for your business, are in between residences, or require storage space for any other reason, we offer a wide range of unit sizes to meet your needs: from a small locker to large dimension storage units, and everything in between. For any assistance from our friendly staff to help you determine the best fit for your needs, you can reach us by telephone or on site, where we're happy to assist.
convenient location
Our Wimbledon location supports self-storage customers in the Mitchingham areas.This outlet is also the site of our car and van rental business, so if you'd rather rent a van for free (conditions apply) instead of using our free collection service, we're happy to oblige!
a trusted provider of self-storage solutions
At Henfield Storage, we have been providing an unparalleled experience for self-storage customers for over 40 years. Our goal is to be the most trusted and highly regarded provider in every market we serve, and we intend to accomplish this by providing complete and exceptional storage services for every person's unique needs.
competitive pricing
The rest of life can be expensive enough living in a bustling area like Mitcham. That's why we keep the costs of storage low. A 25 sq ft room can start at just £15.49, and our customers can save up to 15% by taking advantage of our pay-ahead offer. Additionally, for those who will not require regular access to their goods, you can choose to StoreAway, where we will store offsite and arrange transport of your items back to Wimbledon as you need them.
We also offer free collection. If you sign up for a minimum of just 3 months, we will send a friendly mover to your location by van, to help you transport your items to our facility. Finally, just in case you ever do find a better price elsewhere, tell us and we'll match it.
secure storage in mitcham
Besides quality service and competitive pricing, security is Henfield's priority. That's why we equip our sites with many measures to safeguard your belongings. To start, the facility is set up with fire alarms as well as light activating motion sensors. The location is under CCTV surveillance, and is monitored by our staff 24/7, in addition to being connected with the police.
getting started today
Henfield is here to answer your questions in person or over the phone or by email, and to help you choose a unit to meet your needs. Whatever your storage needs in Mitcham are, we at Henfield are here to help you.
Other facilities in London
Other facilities in the area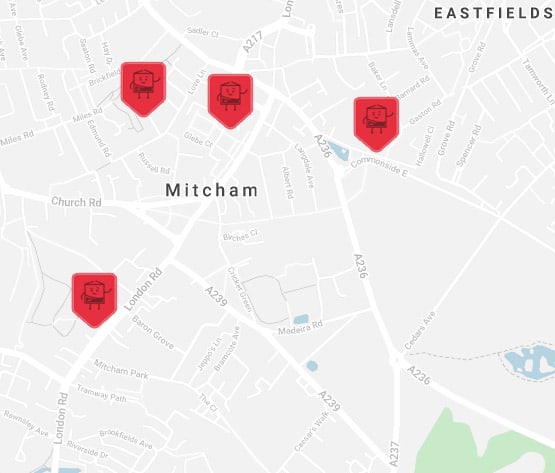 Henfield Storage (Click+Store) – Free Collection

Call 020 3613 2599

Get a quote

Big Yellow Self Storage

61 Morden Rd, London SW19 3BE, United Kingdom

Safestore

100 Morden Rd, Mitcham CR4 4DA, United Kingdom

Access Self Storage

107 Westmead Rd, Sutton SM1 4JD, United Kingdom
can we help you find easy money saving self-storage?
get started